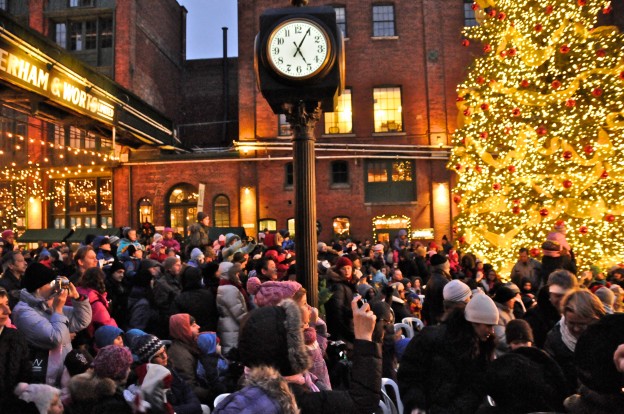 I love to share the fun and magic of the holiday season with my kids but there are SO many options these days that it can get a bit overwhelming. Here are five wonderful options in Toronto this year that have caught my attention!
Black Creek Pioneer Village– On weekends November 18- December 23rd, Black Creek transforms in to an old-fashioned Christmas village. Complete with food, music, tree trimming and wagon rides, this is the perfect tradition to get you in the holiday spirit. In December, meet Santa and feast on a traditional Christmas dinner with all the trimmings (the first three Sundays in December)
Toronto Christmas Market-  I first visited the Christmas Market in its first year and I LOVED it. My parents were in Europe at the time and I was so envious of them getting to see the holiday lights and enjoy the markets in Paris. Over the last several years, the market has become incredibly popular, so much so that there is a charge attend on the weekends ($6 per person after 5PM on Fridays. Children 2 and under are free) It can be insanely busy on the weekends and in the evenings, but if you head out early enough it can be a really enjoyable outing for the whole family. There are market stalls, tons of fun food options, a giant Christmas tree, music and of course SANTA! (November 16 –  December 23, 2017. Closed Mondays)
A Christmas Carol (Soulpepper)     – For many families Charles Dickens' A Christmas Carol is required movie viewing. To expericec the tradition in person, check out Soulpeppers' annual stage production. Audiences also enjoy free entrance to the Toronto Christmas Market via the Cherry Street entrance. (Show runs from December 7th-24th. Best for ages 8+)
A Christmas Carol (a Ross Petty Production) – For a more lighthearted musical version of Dickens' classic, check out this production. Ross Petty's shows are based on the traditional English pantomime, which means lots of audience participation and inevitably at least one character in drag. I loved going to these as a child and I can't wait to take my own kids! (Show runs November 24th- December 31st at the Elgin Theatre)
Holiday Bricktacular at LegoLand Discovery Centre (Vaughn Mills) – Legoland is Mecca for my eldest son. What better way to celebrate the holidays (and fill those long days between Christmas and New Years) then with Lego! Write a letter to the Master Model Builders, test your little ones skills creating Lego holiday decor and just have a blast. ( Legoland Discovery Centre is located in Vaughn Mills. Check the website for dates and ticket information)
What are your favourite family holiday traditions?????
SaveSave
SaveSave
SaveSave
SaveSave
SaveSave
SaveSave
SaveSave
SaveSave
SaveSave