My February Glymm Box arrived on March 5th, so there was already one strike against it. I figured that it had better be worth the wait and I don't think that it is.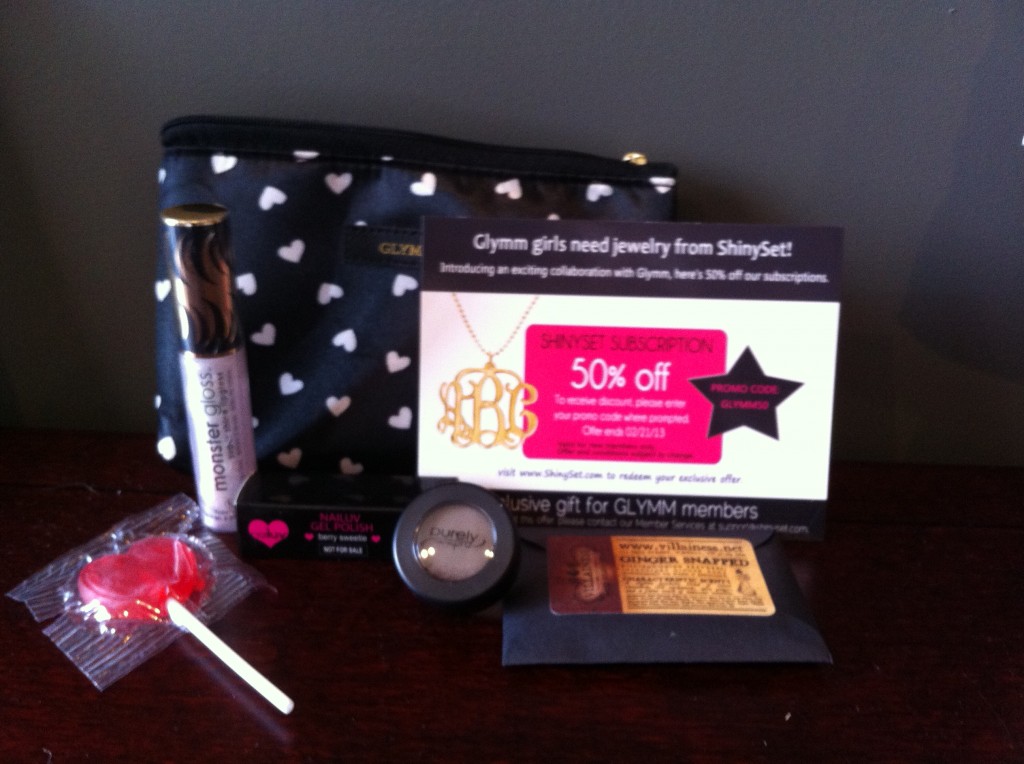 Here is what I received this month
Purely Pro Eye Shadow in Luxury (Full Size)- This product is meant to be gentle on the sensitive eye area, which sounds great to me and the colour is the perfect neutral brown. By far my favorite thing in this months bag (although I always like the little makeup bags they send, but how many do you really need?)
Villainess Ginger Snapped Bar Soap- Smells amazing! I will be using this.
Femme Couture Monster Super Shine Gloss (Full Size)- Nice to get another full size product but as a grown women, I don't think that I will use this. It has a huge brush so it is a bit difficult to expertly apply and it smells like Bonne Bell Vanilla LipSmackers. I will be passing this on to my friends eleven year old daughter.
Nailuv Gel Nail Polish in Berry Sweetie- – Love the pink iridescent colour but this nail polish is completely useless to me as it requires a UV or LED light to cure it, which I do not have.
Shinyset 50% discount card- This is for a an online jewelry subscription service I could care less. Not enough recompense for the box being almost three weeks late.
I have decided to wait one more month before I make the decision whether or not to cancel but unless the next box blows me away, it is probably going to happen.
***FYI- Ladies, if you one of you would like the gel polish or the Shinyset dicount card, let me know and I will send it your way.