This was perhaps my favourite Topbox yet because it contained exactly what I was needing at the very minute it arrived. It was actually a little spooky….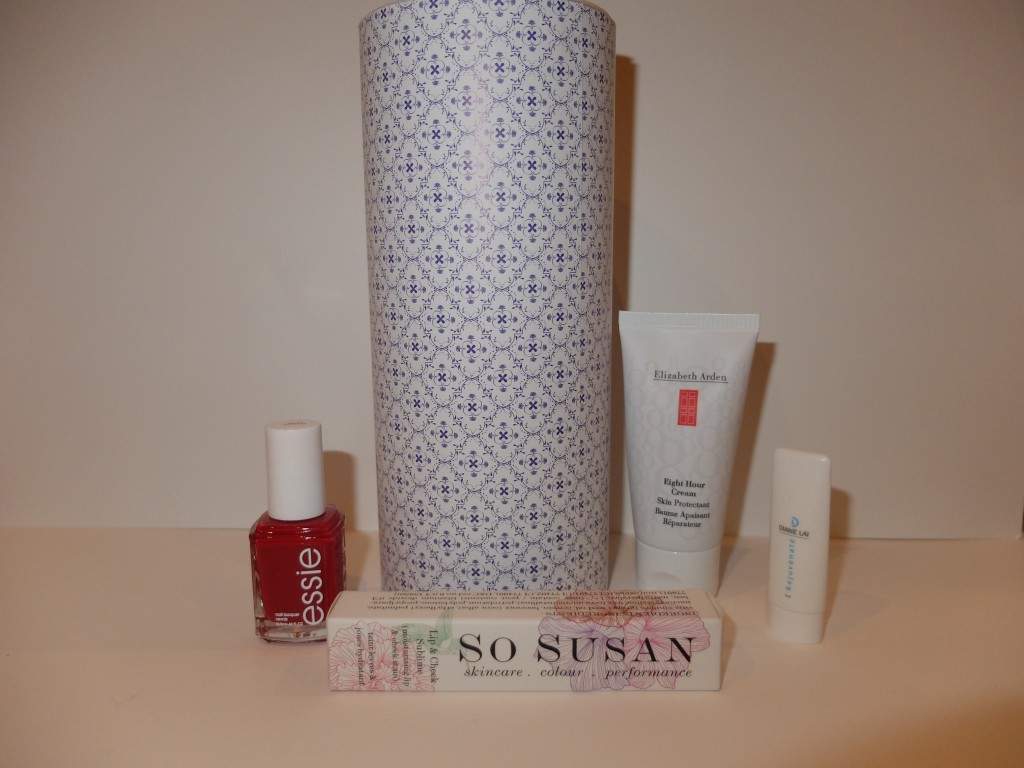 Essie Nail Polish in "Head Mistress"
Essie is my favourite nail polish and the colour I received, "Head Mistress" (saucy name!) is a perfect deep red with a hint of pink! I am having a serious red lips and nails moment right now.(Tip: Essie "Good to Go" top coat is the best topcoat I have ever used!)
Elizabeth Arden Eight Hour Cream Skin Protector
This product is considered a legendary beauty secret. Created by Ms. Arden in 1930, this cream is a favourite of makeup artists; Beta Hydroxy and Vitamin E help sooth redness and chapped skin and it adds glow to eyelids, cheeks and lips- All purpose awesomeness!! I have used this every day since it arrived and I love that it helps me look chic and dewy while I heal my dry winter skin.
The texture of this stain is silky and I LOVE the colour on my cheeks, but it is a little too orange to use on my lips. I have it stashed in my bag to use if I start looking a bit pale during the day.
Diane Lai Rejuvenate Daily Moisturizer
This hypoallergenic cream contains grape seed oil, shea butter and olive oils to hydrate the skin  without being heavy. The cream is organic and smells subtly of lavender, which is nice (but not overwhelming). I also love that this company does One for One (donating the equal value of products to charity).
Yet another Topbox hit! I cannot tell you how much I love receiving these in the mail every month!!!!