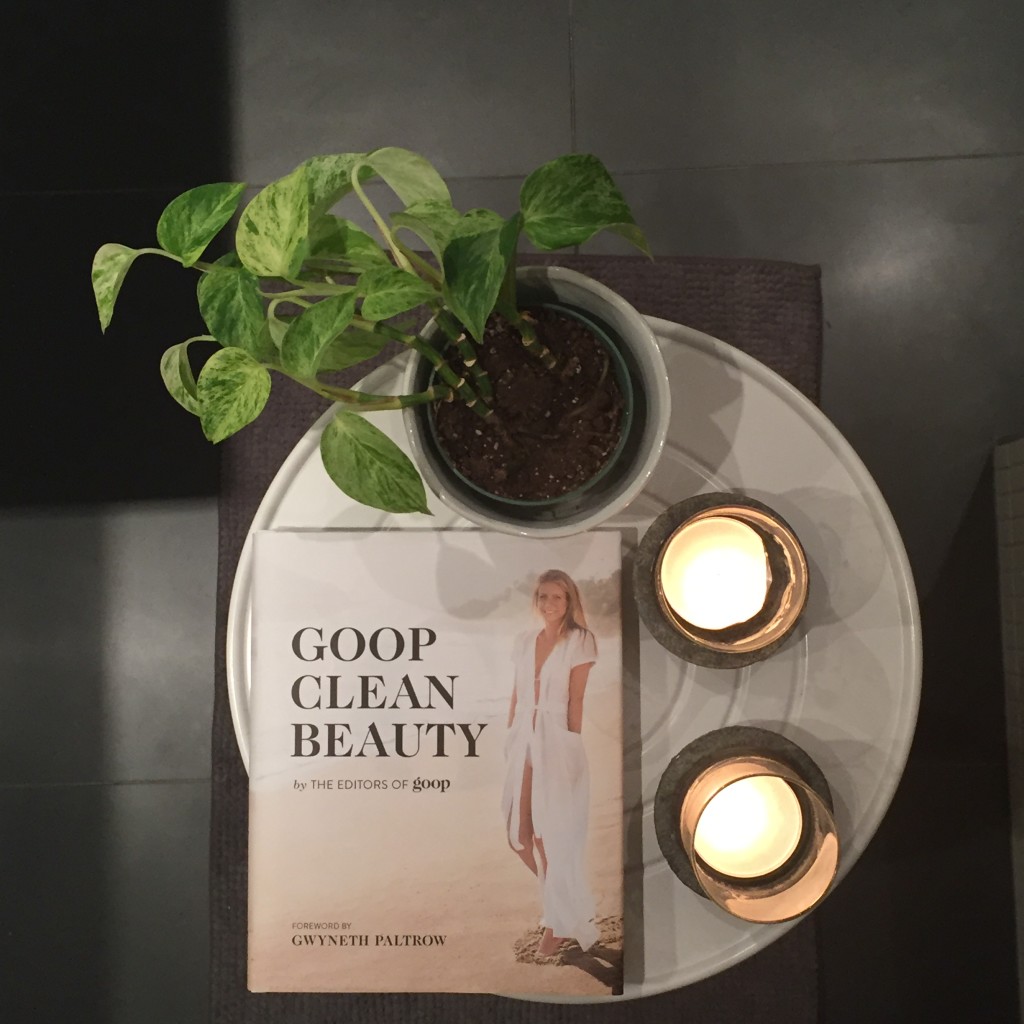 I have been a subscriber of goop since the beginning because I love Gwyneth Paltrow's clean, crisp clothing style. Honestly- her uniform post from several years ago is still a go-to for me. I am still a subscriber but over the years as goop has developed as a "lifestyle" brand, I have certainly stopped being an avid reader. The problem that I have is the same as a lot of other people- the site just SMACKS of privilege; almost everything featured is insanely expensive and it seems out of touch with the lives of most women (steaming ones vagina?? Really??? That cannot be healthy)
When I was sent Goop Clean Beauty by the publisher, Hachette Book Group Canada, I was willing to attempt to look at it without any preconceived notions. It was January and who doesn't love a good lifestyle book to start the New Year with? I was certainly curious if the book would be accessible to the 99% who aren't Hollywood royalty….
My first impression of the book was how clean (no pun intended) and stylish the layout design was. It was like your favourite Instagrammer who uses a lot of flat-lay pictures- perfect and styled within an inch of its life. I did have to chuckle a bit that kale leaves were prominently featured on the dedication page.
While the credit for the book goes to the staff of goop, GP "curated' the book so naturally the introduction was penned by her. In it, she extols the virtues of natural self-preservation and aging gracefully while feeling as good as possible both inside and out. So far I am on board. She addresses all the negative products in so many beauty products and stresses how bad "toxins" are for the body (this feels a bit like an ad for goop by Juice Beauty)
GP has gotten a lot of flack by members of the medical community about her detox cleanses and she clearly wants to clarify her position here by stressing that her detox focuses on clean eating (i.e eating nothing fun at all) and not juice cleanses or fasts. Thea Baumann (the resident goop chef), provides 24 recipes for clean eating, many of which look pretty yummy (I am for sure trying  the Steamed Fish with Dashi and Soba Noodles and all the chopped salads). However…. there is a recipe for hot water and lemon.. Seriously?
A list of superfoods and antioxidants are included here which is hardly new territory but its nice to have all the info in one place if you are into that sort of thing (I am sort of on the fence, personally)
Of course Tracey Anderson also shows. I am as envious as anyone of GP's figure but Tracey's "method" is not super feasible for me as much as I wish it were. (working out for an hour a day would be amazing if I had that sort of time)
One thing that I was very interested in was the section addressing supplements and foods that help with hair, skin and nails. I took some of the advice and started talking a Biotin and have noticed a difference with my hair, especially. The beauty section is very blunt about how skin and haircare products work and that the real permanent changes and improvements come from what you put in your body rather than what you put on it. YES! This was probably my favourite section.
The the section that focuses on hair styles and makeup is a bit silly, especially in the era of YouTube tutorials. How to do a cat eye and a ponytail? Huh?
Another section that I was really interested in was about sleep- about how much you need, how to get the most out of sleep, the importance of naps for adults (HA- vindication! I LOVE naps) and how lack of sleep can affect your body. I am working on implementing some of the suggestions in an attempt to feel more rested.
All in all, this book is a beautiful hard covered version of the goop website and while there are certainly some good recipes and references, it doesn't exactly break new ground.
Also one more thing- Is adrenal fatigue a real thing?
** I was provided this book for review by Hatchette Book Group Canada. All opinions are solely my own.