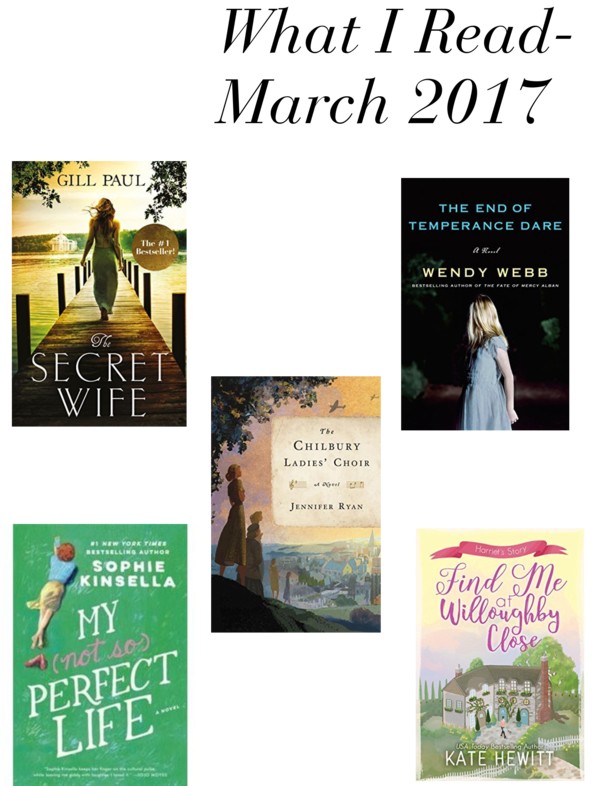 The Secret Wife by Gill Paul
– In this historical novel, one of the Romanov daughters of Russia fell in love with a soldier before the Russian Revolution. As the war intensified, these unlikely lovers struggle to stay together. This is a really touching book about the power of love, however I found many parts of it are soooo farfetched.
The End of Temperance Dare by Wendy Webb
(via Netgalley. Available June 6th) I have loved Wendy Webbs previous "Northern Gothic" novels and I was so excited that I was able to read the advance copy of Temperance Dare!
Eleanor becomes the new director of an artists retreat located in an old TB hospital and when her first group of writers arrive, suspicious things begin to happen. Slowly she realizes that all her guest have ties to the hospital and that something paranormal may have brought them all together. Such a good, tense and atmospheric read. If you like a good gothic story, I highly recommend this!
My (not so) Perfect Life
by Sophie Kinsella- Katie wishes her life were as glamorous as the life she shares on Instagram. Her "perfect" job is ruined by her horrible boss Demeter, she lives in a hovel with weird roommates and dating isn't really happening. When Demeter suddenly and cruel fires here, Katie returns home to her family to regroup and finds herself starting a new glamping business on their farm. But when Demeter arrives as a guest….. Sophie Kinsella is the queen of women's fiction and this novel doesn't disappoint. Katie is a hero you emp and laugh with. Loved this book.
The Chilbury Ladies' Choir
by Jennifer Ryan  The intersecting stories of the women of the Chilbury village choir and how they navigate love, suspicion, grief and fear during WW2. Such a wonderful book- characters that were so well developed and real that you couldn't help cheering for every single women.
Find Me at Willoughby Close
by Kate Hewitt (via Netgalley. Available now) The second book in a frothy trilogy about three women living in the cottages of Willoughby Close.  Harriet moves into one of the little cottages after she discovers that not only is her husband having an affair, but he has also mortgaged away their home. Suddenly single and broke, Harriet sets about trying to create a new life with her children and figure out who she is on her own.
Have you read anything recently that I have to cozy up with???