As April showers give way to May flowers, its time for this month's favourites!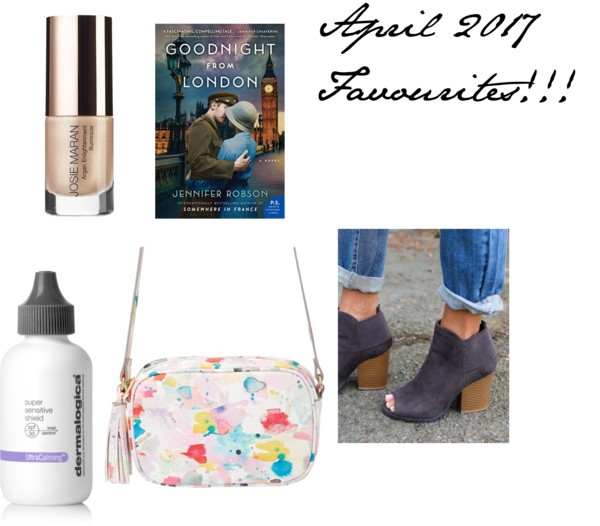 Josie Maran  Enlightening Illuminizer – I am totally obsessed with this illuminator. My skin looks so dewy and bright with just a touch mixed in with my moisturizer….. and speaking of moisturizer…
Dermalogica Super Sensitive Shield SPF 30–  I am bad… I often forget to wear SPF in the winter but as soon as the sun become stronger I refuse to leave the house without it. I love the Dermalogica skin shield because it doesn't irritate my skin at all.
Goodnight from London by Jennifer Robson– I love Ms. Robson's books (and the fact that she lives near me is also awesome). Her historical novels are some of my favourite reads. This book, about an American war correspondent in Blitz era London is totally engrossing, as are all her  novels.
Splatter Print Tali Tassel Crossbody by Indigo– I needed a splash of colour during April- Toronto was so grey and crummy. Love this little cross body and its abstract design. Pretty sweet price too! (Currently on SALE)
Vici Doll Carson Charcoal Bootie– If you follow me on Instagram stories, you know that I LOVE Vici Collection (based in California, the clothes are super cute but the duty to ship to Canada is a bit prohibitive). These booties came in my second order and I am thrilled with them. They look amazing, are very good quality for the price point and are actually comfortable.