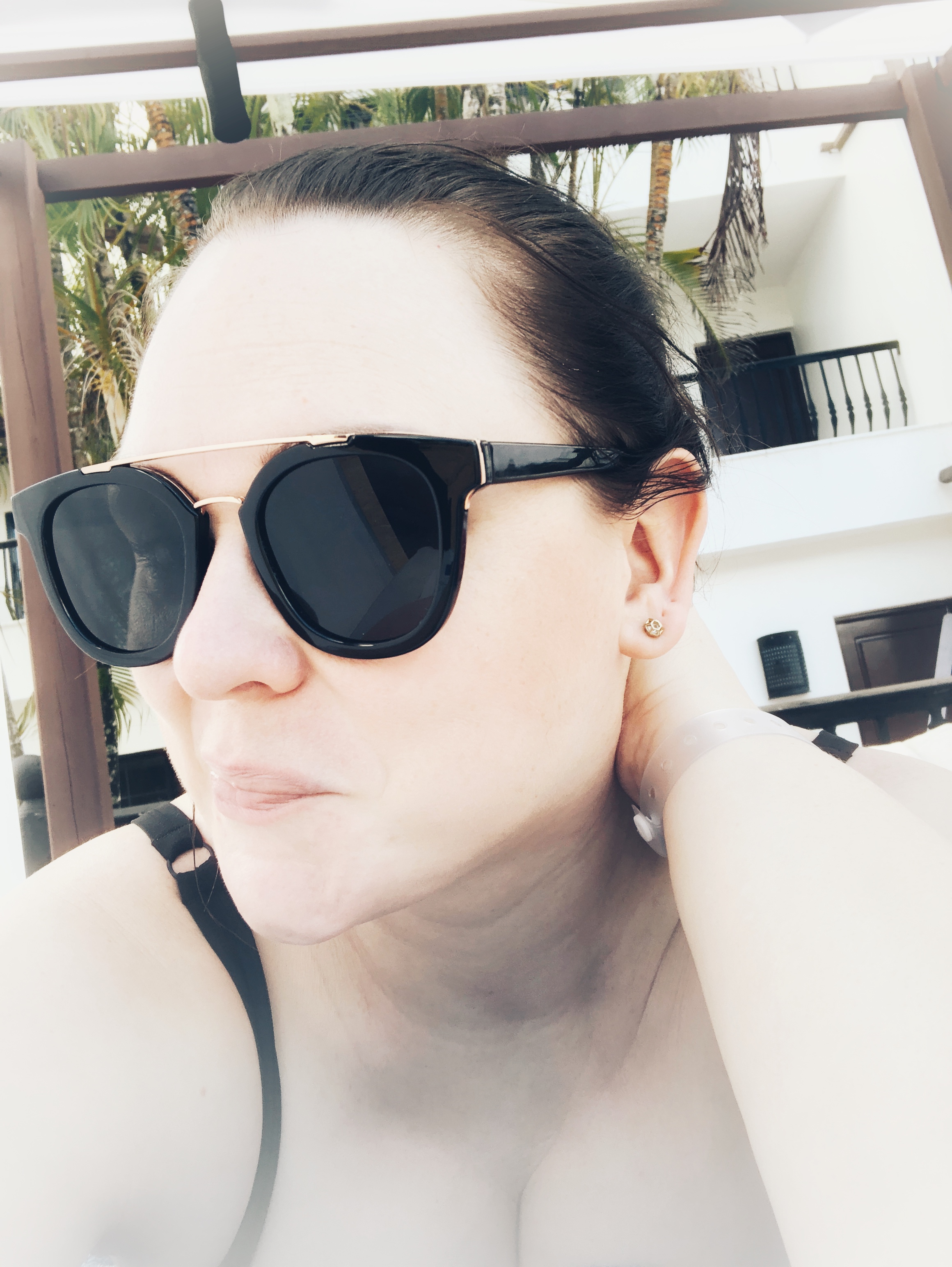 If you read my post from earlier this month  about Simplifying for 2018 ,  you may remember that one of my goals for this year is self-care. I am taking this to heart and this week I am heading to the beach! I have not been on a beach vacation in 9 (!!) years. I am heading away with two girl friends to an adults-only resort in the Dominican Republic. I cannot wait to sit by the pool, read, drink cocktails and relax in the sun, especially considering how brutally cold it has been the last several weeks. It will be weird to be away from the hubs and the kiddos but I think a little recharge and reset is the perfect way to set up for a successful new year!
That is how this post was supposed to start.
If you follow me on social media, you probably already  know how much I was looking forward to a recent girls trip to the Dominican Republic. I planned, dreamed and prepped for two months for these precious five days. It sustained me through the hectic and intense holiday season and the frantic back-to-school  week.
The day of departure arrive and I was SO excited. I had been packed and ready to go for ages. I had five books chosen and outfits planned. The airport departure was simple and the flight was enjoyable- we drank wine, watched movies and giggled at our good luck to be heading to a warm sunny destination in the dead of winter. However, when we landed something inside of me just felt…. off. Anxious rather than relaxed. I didn't feel how I had expected to feel AT ALL. It was a bit disconcerting but I chalked it up to exhaustion and travel fatigue. The next morning I didn't feel any better. My emotions were all over the map, one minute thinking that I would be okay to desperately wishing I was somewhere else. I spoke to my friends I was traveling with and they were super supportive and comforting but I didn't want to burden them with this weird and unexpected development. This trip was a very important and well deserved break for them and they should be able to enjoy every second of it.
I spoke to my kids and husband and they were all happy and good. It was odd- I wasn't really missing them per se but the idea of being where I was for three more days (which, I know, seems like nothing) filled me with dread. I couldn't sleep or eat. I couldn't even relax enough to enjoy a cocktail and read a book. Everything as too bright, too loud, too intimidating. It was terrifying.
I woke up the second morning and I thought I was feeling better. I texted my friends and told them to reserve me a pool bed. Then I actually tried to get up and the dread returned. In that instant I knew I needed to leave. I was on the verge of panic- shaking, dry mouth… I needed to go home immediately or I was afraid I would end up in the hospital. My mother helped me book a flight that was leaving in three hours and my friends spoke to the resort and got me a cab. I was packed and on my way to the airport within half an hour. I was a complete mess. I couldn't stop crying and I didn't feel much relief to be heading home. While still incredibly anxious, I was now terribly terribly sad that everything I had been looking forward to for months had been ruined by my stupid brain. I also felt completely ridiculous I had been telling everyone and their mother about this trip and now I leave after 36 hours? WTF? What would people think?
I decided to be honest and text my friends and even put up a couple of Instagram stories about my reasons for leaving.
The support I received and continue to receive has been incredible but at the end of the da it wouldn't matter if I had not received any. I did what I had to do  for myself and isn't that the very definition of self-care???
I never anticipated that this was going to happen on this trip, although maybe I should have in hindsight. It has happened to me while travelling before but it has also happened at home. That is the sneaky think about mental health issues. They can creep up on you like a thief and rob you of rational thought and common sense.
I have work to do to figure out these feelings because I have literally no idea where they came from and I hate feeling like I did that day on the plane home. It broke my own heart.
I decided to share this on the blog and on social media because I am not ashamed. Things happen in life over which we have zero control and sometimes making a choice that may seem extreme is required.
If you suffer from a mood disorder, including anxiety or depression, click here for some Canadian resources for help 
SaveSave
SaveSave
SaveSave
SaveSave