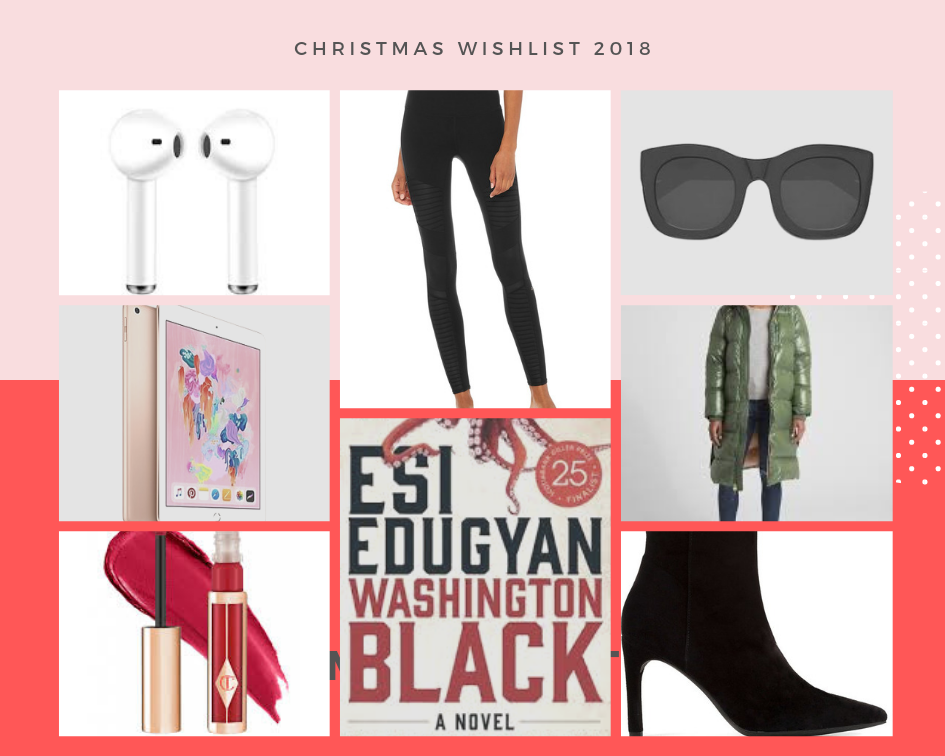 AirPods- I am sick of fighting with my ear phone cord when I am walking or working out. I need wireless!
Alo High Rise Moto Leggings- I am obsessed with moto leggings and my fave Gap pair are no longer available (sob) -these Alo ones are a splurge (hence asking for them as a gift) but I LOVE how high rise they are.
Anine Bing Larchmont Sunglasses- I ham loving blogger Anime Bing's line lately and these sunglasses are amazing. I adore huge frames and of course, I like these because they are my fave colour- Black 😉
iPad Mini – I broke my old iPad months ago and it wasn't worth fixing and I miss it SOOO much. Not sure if this will appear under the tree this year but a girl can dream.
Washington Black by Esi Edugyan– Ms. Edugyan recently won Canada's prestigious Giller Prize for this novel and we also chose it for our next book club read. I loved her last book "Half Blood Blues" so very much looking forward to digging into this one over the holidays.
Gap High Shine Down Puffer Coat– I have become obsessed with the idea of a new puffer coat for the winter and I love this green shiny shade! Also, such a good price!
Charlotte Tilbury Hollywood Lips in Classic Ruby Red- I recently picked up my first CT lipstick and I am a convert. I am in need of a new red and this is the one I have decided that I NEED!
Geox Vaviola Bootie– It's been a few years since I got a new pair of heeled ankle boots and these fit the bill perfectly! Sexy shape, good heel that's not too tall.