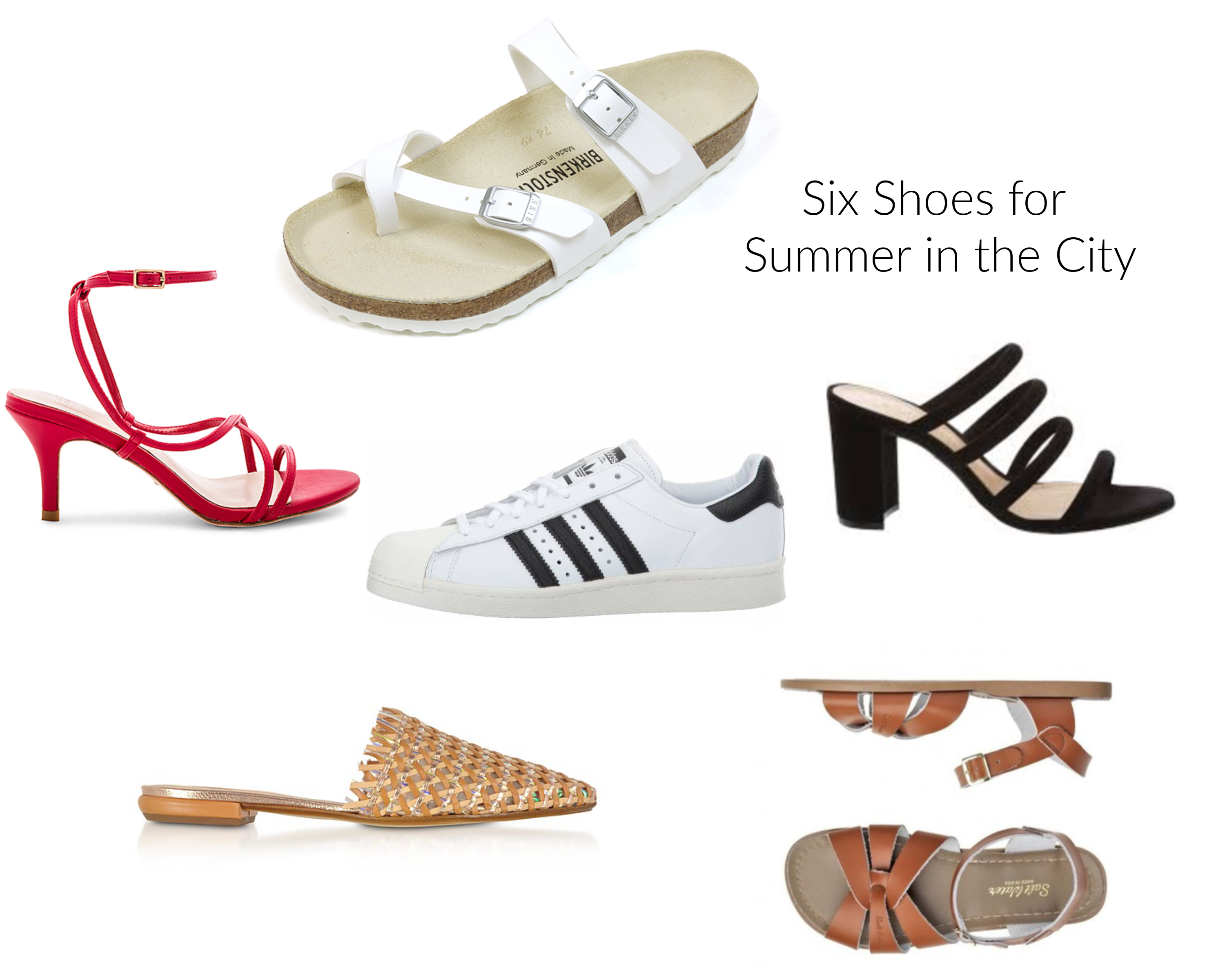 Birkenstocks– I was super anti- Birks for years and then I slipped my feet into a pair the summer after I had the twins and I fell hard. They are supportive (I am old) and super comfortable. I am living for this white pair for summer.
Colourful Strappy Sandals(by Raye the Label)– I did an entire post about Floss sandals (see it here) and while the super "naked" look of these sandals isn't for everyone, a good pair of colourful sandals are a great addition to a summer shoe collection. Good for dressing up a simple outfit or for a night out. I love this pair from Zara and this pair from Steve Madden.
Sneakers (by Adidas)– Sneakers are essential in the city. I walk A LOT and I basically live in running shoes. I recently bought this pair from Nike which I haven't received yet but I love but if you are looking for something a little more low-key and classic, the Adidas Superstars pictured above are a great choice as are basically any style of Converse.
Block Heels (By Schutz)– Block heels are easy to walk in. That's why I like them- they give me some hight but I don't trip or get stuck in cracks in the sidewalk. I recently bought this pair from Zara, which are very comfortable and a good price point.
Mules (by Rodo)– I think of mules as the perfect work shoe for the more casual office environment the type of place that doesn't require a power suit but is also not sneaker friendly. Closed toed, yet still Summer-y, they look polished with cropped black pants and a good tee-shirt. I love these ones from Zara.
Water shoes (by Saltwater Sandals)– These are cute, super comfortable, and water-resistant. Plus, you can twin with your little ones if you so desire. I also love Natives for water-resistant shoes for kids and adults alike.