I am an organized person. My house is pretty neat (considering that I have three small kids) and I regularly organize and get rid of things I don't need. The one area that gets super out of control is my closet. We live in an older (1917) home and there is a real lack of closet space. When we renovated our house in 2014, we moved the master bedroom to the third floor and our incredible architect Barbora Vokac Taylor, designed closets for us as there was no storage. Limited space meant that while the closets are wonderful, they aren't huge.  Or even big. So they get pretty jammed over the course of a season. Winter is the worst for me because of sweaters (and my beloved funnel necks) that constantly go in and out. It gets a bit tragic.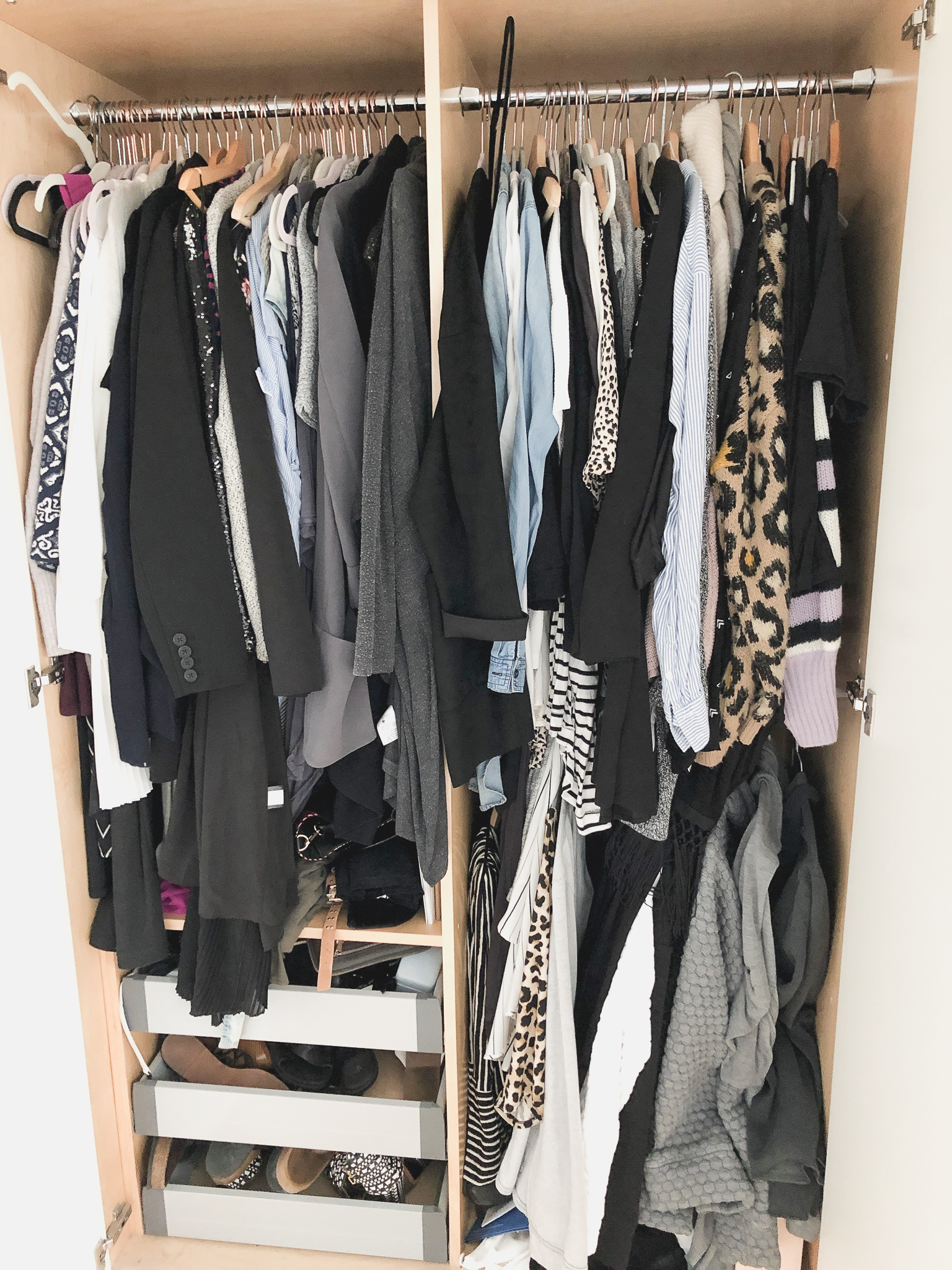 Basically everything is just jammed in there. My shoes are everywhere (not just in the designated drawers) and my accessories (mostly my beloved sunglass collection) are a jumbled mess. Last week, I thought that I needed to put my money where my mouth is. If I am going to help other people clean and declutter their wardrobes, I had to do it for myself.
The first thing I did was what Mari Kondo recommends- I took EVERYTHING out and piled it on my bed. I picked up every piece and if I didn't like it, hadn't worn it the last season it was for or it was worn or stained, it went on the floor.  This mess made me crazy so I put it all in baskets and bags to be sorted later (into donation, textile disposal or for friends)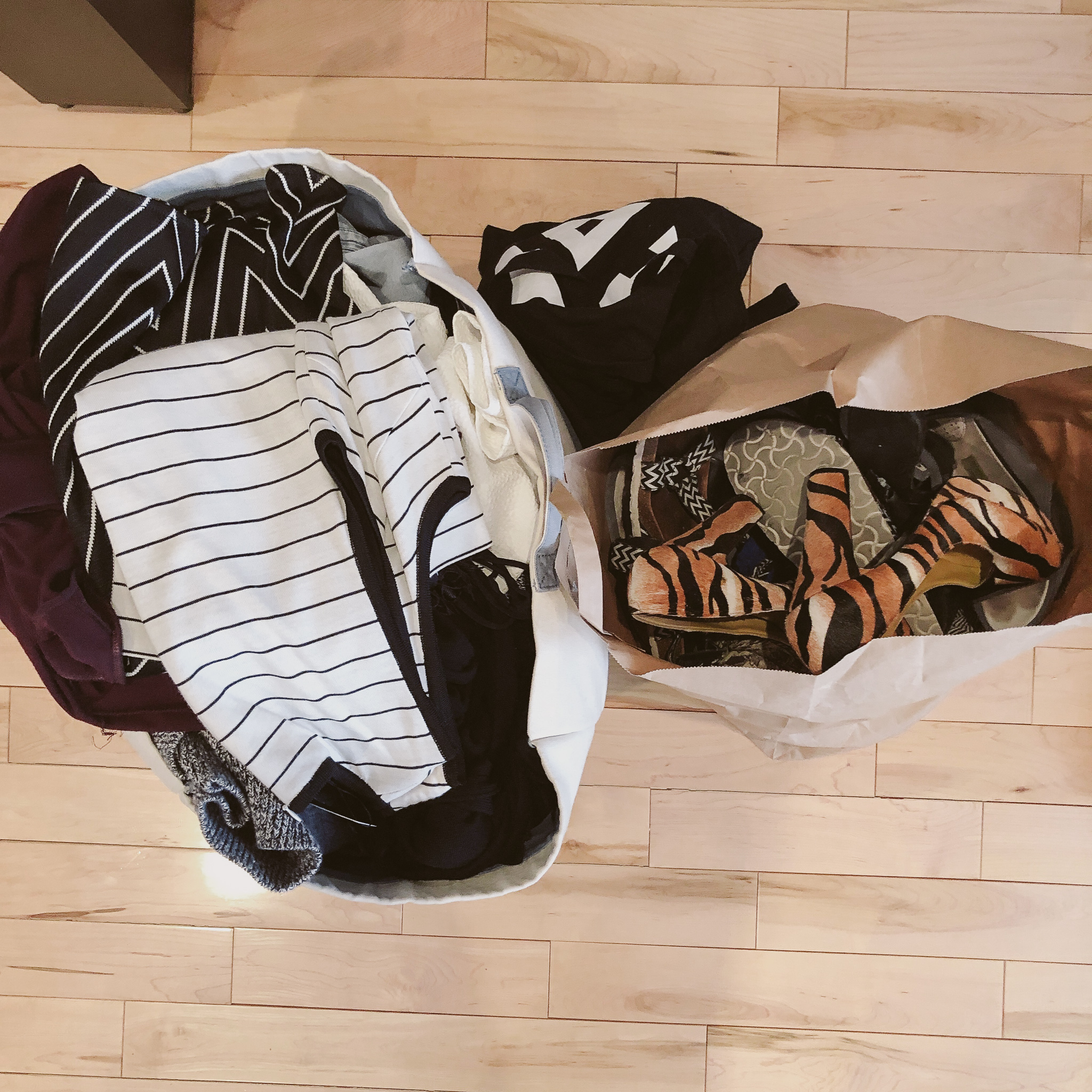 Then I decided where everything remaining was going to go. I decided to put the sweaters and winter pieces on the left side, summer tops, dresses and jumpsuits on the top right and pants on the bottom right.
I then organized everything by colour (such as it is in my wardrobe) to make it easy to find what I am looking for.
Then I arranged my sunglasses and clutches- made sure that they were stored with care and that as many sunglasses as possible were in their cases.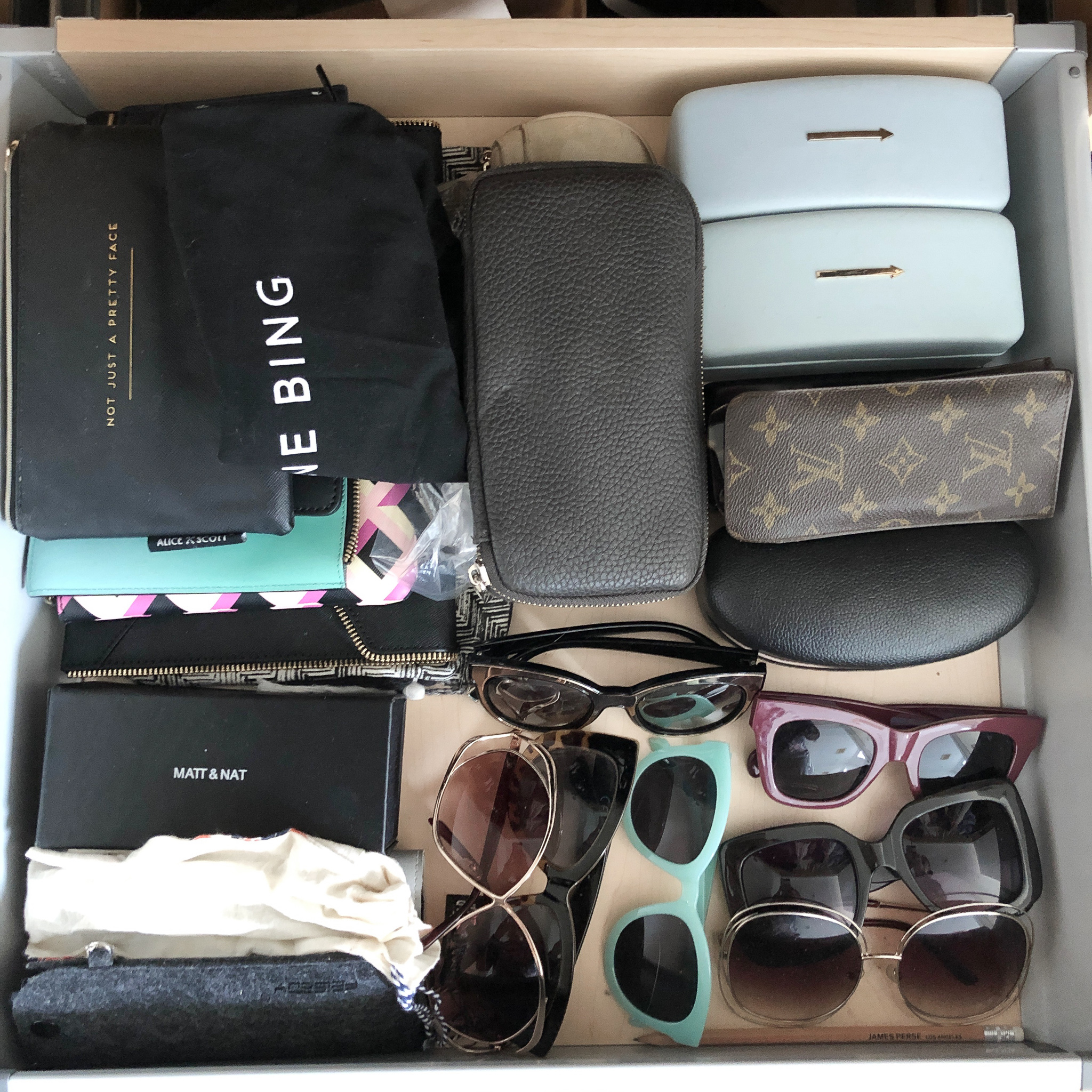 Then I went through my shoes and got rid of anything that was too old, out of style or uncomfortable (including the super high animal print pumps in the giveaway pile!) and paired them up and put them back in the shoe drawers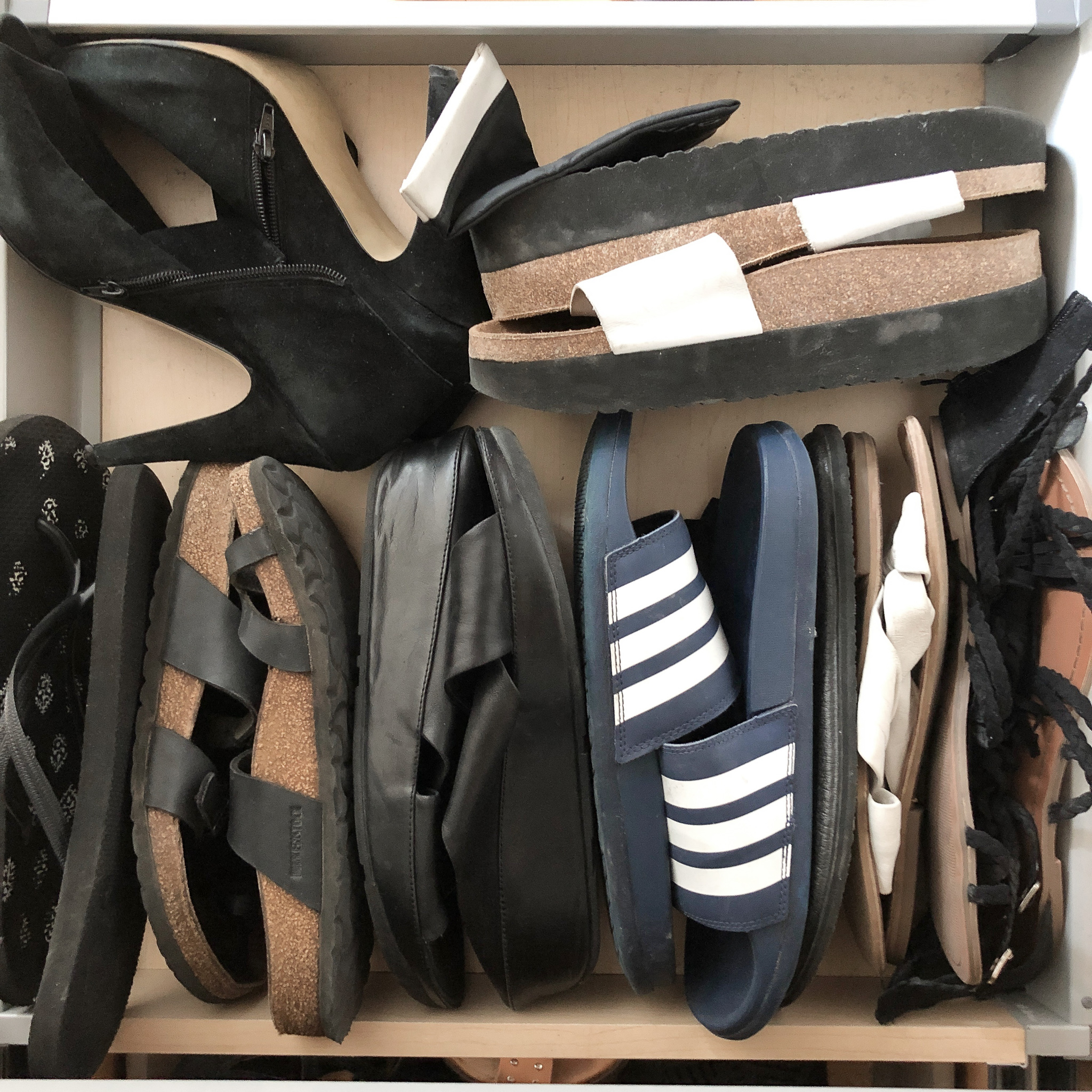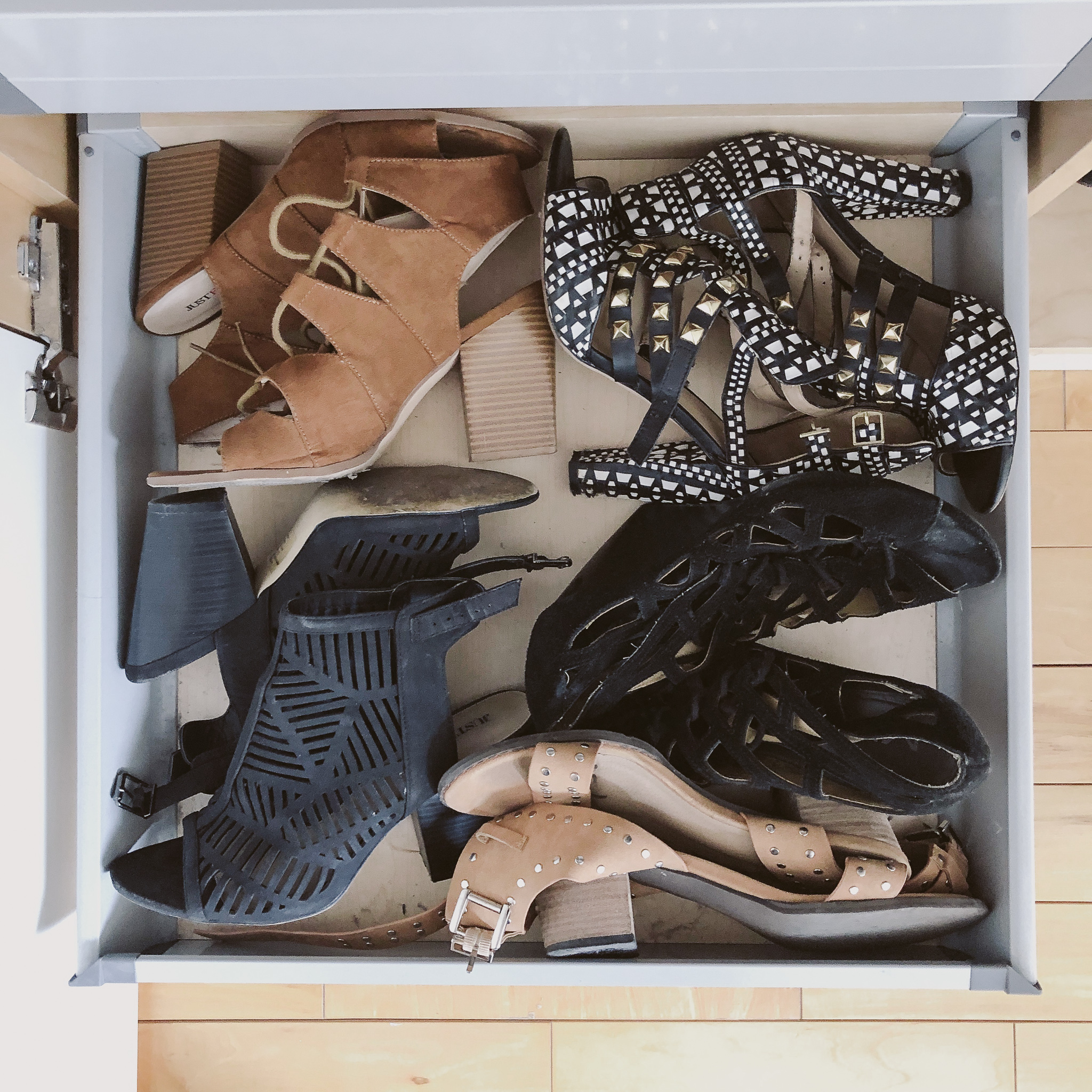 I am so happy with my effort and I really have a good idea what I have going into spring and know what my wardrobe deficits are. Never shop for a new season without knowing what you already have.